Msgr. Frederick R. Mc Manus - Memorial Lecture Series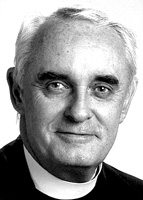 The School of Canon Law hosts an annual Frederick R. McManus Memorial Lecture. This lecture series is supported through the generosity of family and friends of Msgr. McManus. Contributions can be made to the McManus Memorial Fund, School of Canon Law. For more information, please call the School of Canon Law, 202-319-5492, or e-mail cua-canonlaw@cua.edu.
Biographical Note
Monsignor Frederick R. McManus, a priest in the Archdiocese of Boston and professor emeritus of The Catholic University of America, died on Nov. 27, 2005, in Boston, Massachusetts, at the age of 82, of heart failure. Monsignor McManus began his undergraduate studies at the College of the Holy Cross in Worcester, Massachusetts before attending St. John's Seminary in Brighton, Massachusetts, where he received a B.A. in 1947. He was ordained to the priesthood for the Archdiocese of Boston that same year. Monsignor McManus continued his studies in canon law at The Catholic University of America, where he received a J.C.B. in 1952, a J.C.L. in 1953 and a J.C.D. in 1954.
From 1954 to 1957 Monsignor McManus served as a professor of canon law and moral theology at St. John's Seminary. He joined the faculty at Catholic University in 1958 and filled many roles at the university during his tenure. He served as dean of the School of Canon Law from 1967 to 1973, as vice provost and dean of graduate studies from 1974 to 1983, and as academic vice president from 1983 to 1985. Monsignor McManus retired in 1993 but continued to teach until 1997 as a professor emeritus.
Monsignor McManus was a distinguished canonist and a major expert in the postconciliar reform and renewal of the Roman Catholic liturgy. He initiated a graduate program in liturgical studies and participated in ecumenical dialogues at both national and international levels. A peritus at the Second Vatican Council, he was actively involved in the postconciliar implementation of the Constitution on the Sacred Liturgy, and assisted with the establishment of the International Commission on English in the Liturgy. Monsignor McManus received numerous awards from universities, professional societies, commissions and associations that recognized his unique and scholarly contributions to the liturgical prayer of the Church.