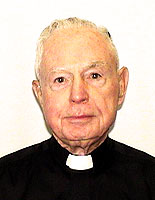 School
School of Canon Law
Expertise
Canon Law in the 13th and 14th Centuries
Canon Law and the Ordained Ministry
The General Councils of the Church.
Professional memberships/activities
The Canon Law Society of America
The Medieval Academy of America
The American Catholic Historical Association
The American Society of Church History
Archivist for Missionary Society of St. Paul the Apostle
Contributor to encyclopedias
Major Publications
"The Obligations and Rights of Clerics" in New Commentary on the Code of Canon Law. New York/Mahwah: Paulist Press, 2000.
"The Canonical Contribution to English Law," Studia Canonica 33 (1999) 505-525.
"The Eastern Churches: Historical Background," The Jurist 51 (1991) 1-17.
"The Medieval Canon Law on Sanctuary with Particular Reference to England," Unico Ecclesiae servitio, ed. M. Theriault & J. Thorn. Ottawa: St. Paul University, 1991.
"Historical Notes: The Clergy and the Diocese," Clergy Procedural Handbook, ed. R. Calvo & N. Klinger. Washington: Canon Law Society of America, 1992.
"The Magistery and Theologians from the Apostolic Fathers to the Gregorian Reform," Chicago Studies 17 (1978) 173-197.
"Marriage and Celibacy of the Clergy the Discipline of the Western Church: An Historico-Canonical Synopsis," The Jurist 32 (1972) 14-38, 189-212.
"Co-Responsibility in the First Five Centuries: Presbyteral Colleges and the Election of Bishops," The Jurist 31 (1971) 14-53. Reprinted in Who Decides for the Church, ed. James Coriden. Hartford: Canon Law Society of America, 1971.