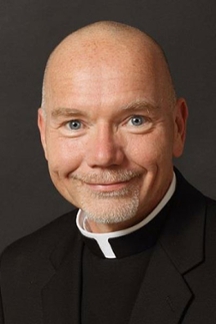 Expertise
Ecclesiastical Penal Law
Procedural Law
Canonical Legal Development
Bio
Monsignor Jenkins is an alumnus of the canon law school who joined its faculty as an assistant professor in 2001. He is the co-author (with Klaus Ludicke) of the book Dignitas Connubii: Text and Commentary and has written numerous scholarly articles on a wide range of topics, from the canonical obligation to observe confidentiality to clerical sexual abuse of minors and the Church's new marriage nullity procedures issued by Pope Francis in 2015. Since 2001, he has been associate editor of The Jurist and since 2006 a member of the board of editors of Gratianus Series in Canon Law.
In 2005 Monsignor Jenkins was hired as the associate general secretary of the United States Conference of Catholic Bishops (USCCB). In 2010, the bishops of the United States elected Monsignor Jenkins to the post of general secretary, placing him in charge of the day-to-day operations of the USCCB on their behalf. He continued during that period to serve the School of Canon Law as adjunct associate professor. One of his signature accomplishments as general secretary was the national coordination of the highly successful apostolic visit of Pope Francis to the United States in September 2015, for which Monsignor Jenkins served as national coordinator.
Monsignor Jenkins has also served the USCCB in other capacities: consultant to the Committee on Canonical Affairs and Church Governance, consultant to the Committee on Child and Youth Protection, and special consultant on Penal Law and More Grave Delicts. In addition, he has served on several boards, including Catholic Relief Services and the Catholic Legal Immigration Network.

Monsignor Jenkins received a B.A. In psychology from The University of Dallas in 1985. He continued his studies at The Pontifical Gregorian University in Rome, receiving a Baccalaureate in Sacred Theology in 1988 and a License in Sacred Theology with a specialization in Patristic Studies in 1990. He returned to The University of Dallas to earn a M.A. in philosophy in 1994. Five years later he received a doctor of canon law degree (J.C.D.) from The Catholic University of America. He was ordained a priest for the Diocese of Austin in 1989. In 2008 he was named a Prelate of Honor by Pope Benedict XVI.