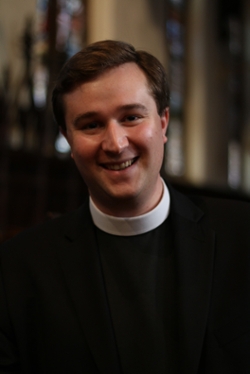 School
School of Canon Law
Expertise
Liturgical Law
Sacramental Discipline
Personal Ordinariates
Professional memberships/activities:
Canon Law Society of America
Canon Law Society of Great Britain and Ireland
Ecclesiastical Law Society
Ecclesiastical History Society
Society for Catholic Liturgy (Board Member)
Committee on Clergy, Canon Law Society of America
Book Review Editor, Antiphon: A Journal for Liturgical Renewal
Editorial Board, The Jurist: Studies in Church Law and Ministry
Scientific Council, Forum Canonicum
Editorial Board, Canon Law Society of Great Britain and Ireland Newsletter
Publications
"To Set Forth His Most Worthy Praise: An Overview of Divine Worship: Daily Office (Commonwealth Edition)," Ecclesia Orans 39 (2022) 5-27.

"Liturgical and Juridical Identity in Anglicanorum Coetibus," Antiphon 25 (2021) 269-286.

"Salus Animarum: Some Examples of the Administration of Viaticum to Plague Victims in the Post-Tridentine Period," Studia Canonica 55 (2021) 195-207.

"Increase in Wisdom and Stature: Personal Ordinariates from Benedict XVI to Francis," The Jurist 77 (2021) 49-72.

"The Virtue of Religion: The Irreducible Essence of the Anglican Patrimony," in The Anglican Patrimony in Catholic Communion. The Gift of the Ordinariates, ed. Tracey Rowland (London: Bloomsbury, 2021) 75-84.

"Text-Community-Identity: Divine Worship as a Project of Liturgical Text Preservation" in The Sacred and the Everyday. Comparative Approaches to Literature, Religious and Sacred. ICLA Conference Macao 2019, ed. Stephen Morgan (University of Saint Joseph Press / Renmin University of China Press, 2021) 53-65.

"Extreme Unction in Extreme Times: The Use of an Instrument in the Anointing of the Sick," in Gottesdienst auf eigene Gefahr? Worship at Your Own Risk? Die Feier der Liturgie in der Zeit von Covid-19, ed. by Hans-Jürgen Feulner and Elias Haslwanter (Münster: Aschendorff, 2020) 589-599.
Short Biography
Rev. James Bradley, J.C.D., is Assistant Professor of Canon Law at The Catholic University of America, Washington, DC, and a Priest of the Personal Ordinariate of Our Lady of Walsingham. He holds degrees in music, theology, and canon law, from Bristol, Oxford, London, and The Catholic University of America. He is currently undertaking a doctorate in Liturgical Studies at the University of Vienna. Father Bradley's current research interests include liturgical law, sacramental discipline, and the personal ordinariates established under the auspices of the apostolic constitution Anglicanorum Coetibus.