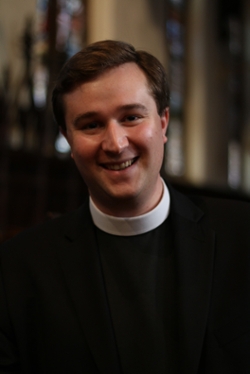 School
School of Canon Law
Professional memberships/activities:
Canon Law Society of America
Ecclesiastical Law Society
Society for Catholic Liturgy
Member, Editorial Board, Antiphon: A Journal for Liturgical Renewal
Publications
"The Virtue of Religion: The Irreducible Essence of the Anglican Patrimony." To be published in a collection of essays edited by Professor Tracey Rowland to mark the tenth anniversary of Anglicanorum cœtibus (London: Bloomsbury, anticipated 2020).
"Text-Community-Identity: Divine Worship as a Project of Liturgical Text Preservation," in the Proceedings of the Religious Studies Roundtable, "The Sacred and the Everyday," XXII Congress of the International Comparative Literature Association (ICLA), University of Saint Joseph, Macau, SAR China, 29 July to 2 August 2019 (University of Saint Joseph Press / Renmin University of China Press, anticipated 2020).
"Ten Years On: The 2019 Revision of the Complementary Norms for the Apostolic Constitution Anglicanorum cœtibus. Some Initial Observations," submitted to The Jurist: Studies in Church Law and Ministry.


Short Biography
Rev. James Bradley, J.C.D., is Assistant Professor of Canon Law at The Catholic University of America, Washington, D.C., and is a priest of the Personal Ordinariate of Our Lady of Walsingham (U.K.). He holds degrees in music, theology, and canon law, from Bristol, Oxford, London, and The Catholic University of America, and is currently undertaking a doctorate in Liturgical Studies at the University of Vienna. Father Bradley's research interests include the areas of sacramental and liturgical law, and the Church's tradition of sacred music.